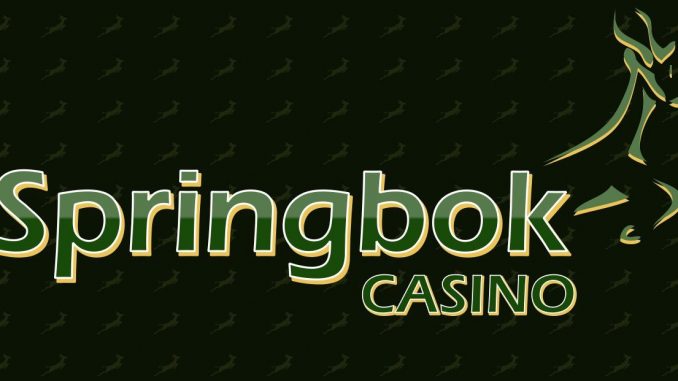 We have recently been looking into how different parts of the world react to online gambling. From the booming online and offline markets of China to the latest additions to Australia's online gambling laws.
Today, we are looking at another specific region and that would be South Africa and more importantly do our Springbok Casino review, which is South Africa's leading online casino and bookmaker that also offers no deposit bonus codes to joining players (more on this later).
In this review, we explore a bit further this emerging online casino and see what makes it such a force not only in the South African betting industry, but the whole world.
So what makes Springbok a leading online casino?
Is it worth it? Is it something we think you should give a try? The no deposit bonus welcome offer sure is enticing, but is there more to Springbok than a very generous welcome offer?
Let's find out…
Name: SpringBok Casino
URL: www.springbokcasino.co.za
Welcome Bonus: (see below)
Minimum Deposit: R100
Casino Rating: 4.0 /5

South Africa's #1 Online Casino
Springbok is a casino registered in South Africa, and its primary target audience is that particular demographic and region but, it can be used and access from other countries as well (more information on this soon).
The South African betting market (like every other country) is on the rise with more and more people abandoning the brick and mortar bookmakers and casinos and moving to a more online (from home) comfort-based gambling.
This is the trend that we will be seeing more of in the coming years, and Springbok is at the forefront of ushering this new era for the African betting markets.
SpringBok's Adoption Of Bitcoin
Another latest innovative move by Springbok is the fact that they now are accepting crypto currencies as a method of deposit (and withdrawal).
Bitcoin, or rather the whole blockchain currencies currently emerging are set to revolutionize the world of online gambling and Springbok are on this offering options to use Bitcoin through their website.
Here is an interesting read about how bitcoin works and how it can be used to gamble online (and online shopping in general).
After reviewing so many casinos and sportsbooks on the Alpha iGaming brand websites, this is a welcome change and we look forward to seeing more and more casinos adopt cryptocurrencies to their portfolio and way of doing things.
Let's now look at Springbok as a casino and what's in it for you as a gambler who likes the few occasional spins.
Online Games Offered At Springbok
The offerings at Springbok are in line with most other casinos we have reviewed so far; they offer games from popular gambling technology provider; RealTime Gaming.
Their biggest focus of operations inside the casino is:
With regards to their betting offers, they claim to offer a vast variety of games, but from our review, we can attest that it is average compared to other online casinos.
There are other casinos who offer many more gaming options as well.

(Some) Pros & Cons Of SpringBok
Download Or Instant Play
The Springbok casino can be accessed online, or it also comes in the form of a download option which you can install on your desktop computer or laptop.
We generally prefer playing online but having a downloadable version may be beneficial to some users.
Games Are Mobile Optimized
While they do not currently offer a dedicated app, their website is mobile optimized and so are the games so you can rest assured that you can take your gambling on the road and play on your smartphone whenever you need with SpringBok.
24/7 Support
Springbok offers 24/7 live support via their live chat function which you will find on the SpringBok website.
They also offer toll-free phone support (South African), and you can also reach out to their international phones as well.
Safe & Secure
Springbok have deployed industry-standards regulations when it comes to the security of their players, and they have the SSL encryption set up making sure that your private details and bank accounts are stored safely.
Cons
There's not much we can knock about SpringBok, but some things that stick out for us in this Springbok casino review are:
A "Long" Waiting Time For Withdrawals.
The withdrawal period does take some time above the average we have experienced. You can expect your withdrawals to hit your bank account in around 72 to 96 hours.
An Outdated Website
We know that not many will care about this, but we strongly think that the casino does need a bit of an update with how the whole thing looks and functions.
We are now living in the era where online casinos are pumping a lot of money into design and user interface (see Betsson for a perfect example).
Unfortunately, Springbok is lacking (slightly) in this department.
Countries Accepted
As we said earlier, Springbok's target audience is the African / South African audience but, that doesn't hold anyone back from becoming a member.
The country that is banned from using SpringBok is (you guessed it) the United States (Bovada is good for US players) and also any other states with harsh restrictions on online gambling (like China).
Unless you are from such countries, then Springbok is open for use.

The Springbok Casino No Deposit Bonus Code
Springbok offers one of the most attractive no deposit bonus sign up offers around.
Just as a new member and without making a deposit, you can claim up to R11,500 (Rand) which equates to around $800.
This is an insanely high amount for a no deposit bonus offer so if you're interested in joining; we suggest you claim this offer now >>
Final Rating
Thank you for reading out SpringBok casino review.
We hope this post has provided all the answers you were looking for and we hope you take advantage of the Springbok casino no deposit bonus code listed above.
From what we saw, we would like to give SpringBok a rating of 4 out of 5 stars which puts it in the top ten casinos we have reviewed so far.
The only issue we saw with this casino is their interface, an average-sized gaming offering and the slow withdrawal times.
Apart from that, we have no reservations about this casino, and we think this can be an enjoyable experience for gamblers both from South Africa and the world in general.
Get your no deposit bonus here >>
If Springbok is not quite what you are looking for. We suggest you take a look at our top rated casinos here and also see more of our casino reviews on this page.
Be sure to leave us a comment down below if you have any Qs and thanks again for stopping by.
Springbok Casino Review Final Rating
Gaming Markets

Customer Service

Deposit Methods

Mobile App / Site

Bonuses