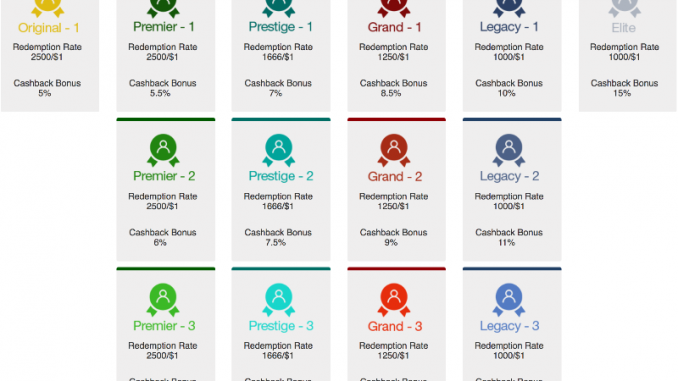 When it comes to online casinos and bookmakers that are accept US players, one of our favorites and one we highly recommend is Bodog and their sister-site Bovada.
Just this past week, Bovada (and when I say Bovada I do mean both casinos), just sweetened the pot for all new players joining and also players who are already registered to the site.
You, whether registered or not, can benefit from their newly introduced Bovada (& Bodog) rewards program which just launched on Bodog (7th August) and on Bovada (22nd August).
Bovada & Bodog Introduce New Rewards Programs

How Does It Work?
The way it works is that Bovada now allows you to earn points on every dollar you deposit with them.
In return, you can use these points earned towards incentives, bonuses and special offers inside Bovada and Bodog).
Just some of these benefits include:
Redeem your points for cash and
Get cash-back on losses.

How To Get Points?
Getting your points and enjoying the benefits mentioned above can be done in 2 easy, fun steps and they are:
Enjoy The Many Betting Options:
Both casinos offer hundreds of different online casino games and sports betting options so whatever you want to play on, I am more than sure you will find it on their vast gambling networks.
Get Rewarded:
And that's it. All you have to do is play and with every wager you place, you will start earning points.
Please note that different games vary with what the amount of points you make per dollar played so be sure to see the official Bodog rewards page for more information.
Bodog/Bovada Reward Levels
The way the current structure is set, is that you have different reward levels with most of them having up to 3 different tiers.
You can find more information on the Rewards page but you can see a screenshot of the different levels and tiers below.

Joining Bodog/Bovada
Both companies fall under one roof so whichever you choose, you are set to benefit from these newly launched rewards programs.
If you haven't joined already, you can do so here and you can also see our Bovada review here and our Bodog review here.
Closing Words
So what do you think of this rewards program? Will you be giving it a go?
Let us know in the comment section below and be sure to contact us if you have any questions.
Talk soon.