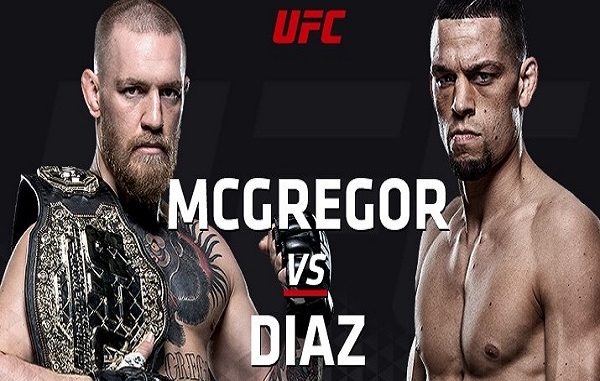 Almost a month after Conor McGregor's lucrative fight against the unbeaten Floyd Mayweather on the 27th of August, 2017, you would expect McGregor to be enjoying his days on a yacht somewhere whilst counting his piles of money from his loss against the world famous boxer.
However, this is the most unpredictable fighter in recent years. The Irish fighter refuses to play to the rules and as we only hoped, rumours for his next UFC fight are already in the talks.
This time around fans of the sport will witness Conor McGregor Vs Nate Diaz for the third time.
The two will enter the octagon by the end of 2017 if all goes to plan.
Sportsbooks are predicting this to be another fight that will add value to your betting bankroll and the Conor McGregor Vs Nate Diaz betting odds have already been set.
But before you place your early bets, let's catch up on some history of the two MMA fighters.

McGregor Vs Diaz: What We Know So Far
This will not be the first fight for Conor McGregor and Nate Diaz.
The two UFC fighters seem to always leave the octagon wanting more.
In their first bout Diaz beat McGregor and in their second bout McGregor came back with vengeance and took him down.
In his MMA fighting career, Conor McGregor has lost a total of three times:
Artemji Sitenkov ( 2008)
Joseph Duffy (2010)
Nate Diaz ( 2016)
Although Nate Diaz is the first man to defeat Conor McGregor on the major leagues. Whilst McGregor has taken the boxing world by storm, Diaz has remained off the radar and seems to be waiting for the perfect time to challenge McGregor once again.
Could this be the moment he's been waiting for since 2016?
When Is the McGregor Vs Diaz Fight?
Although no dates are set in stone yet, we can expect the third fight between the two to take place on the 30th of December in Las Vegas.
This fight will more likely than not take place since both fighters will attract quite the crowd for the big New Year's weekend card.
UFC fans will be glad to see McGregor get back in UFC action following his most recent boxing events, which turned out be more about the lead-up and less about the actual fight in the ring.
The Irish UFC star was last in action back in November when he knocked out Eddie Alvarez adding another accomplishment to his lightweight belt.
We have to admit that a fight with these two fighters once again will ruffle a few feathers as they are both serious competitors in the octagon.
McGregor and Diaz will both be hungry for a long needed win.
Diaz has refuted all fights and has not been in action is 13 months. His last appearance was a little over a year ago with Conor McGregor in which he lost to the Irishman.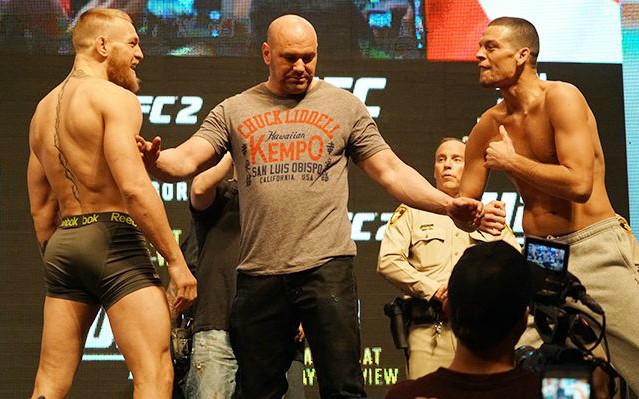 Dana White Comments On The Upcoming UFC Fight
As fans around the UFC world search the web for any possible information on the possible fight, here at Alpha Sports Betting we turn to UFC president Dana White. One would think that the news of a fight between McGregor and Diaz is the jackpot for Dana White.
Conor McGregor has emerged to be the biggest draw in the sport and pay-per-view history.
When asked what he thought about the upcoming fight, Dana White reported that:
'Not true AT ALL,' was White's reply.
This also reminds us of the two fighters bout earlier this summer, as McGregor in typical fashion called Diaz out
"Nate's a f**king bitch, and let me tell you why " McGregor later said about the call.
"I had the biggest respect for Nate, and I still have big respect for Nick, he's out doing his thing. But when [Nate] took that phone call or that video call from Floyd Mayweather and was like, 'Hello Floyd's fans,' he was Floyd's bitch that night. I was like, you f**king pussy. You absolute pussy!"
"So whatever, it is what it is. Now you're back in the queue. Now you're at the back of the queue. … Don't get me wrong, me and Nate will throw down again, 100 percent. It's one each now. We'll finish it off. I'd imagine it will be for the lightweight world title, 155 pounds."
Where Can You Bet On The McGregor Vs Diaz Fight?
Whilst it might seem like early days, you can still place a bet with Leo Vegas on the next UFC fight.
It would be smart to get ahead before news of the fight spreads like wild fire, so placing a bet early on will give you that extra edge over other gamblers.
As it stands the odds at Leo Vegas for the McGregor Vs Diaz fight in December are:
Conor McGregor : 1.36
Nate Diaz: 3.00
Final Words
This is a Conor McGregor fight, be it the UFC or boxing, we expect nothing less than one fantastic show.
You can get a head start and place a bet at Leo Vegas Mobile Casino today to benefit from the best odds and increase the chances of cashing out big!
Subscribe to our newsletter for more information on any news of this upcoming fight and changes in the Conor McGregor Vs Nate Diaz betting odds!