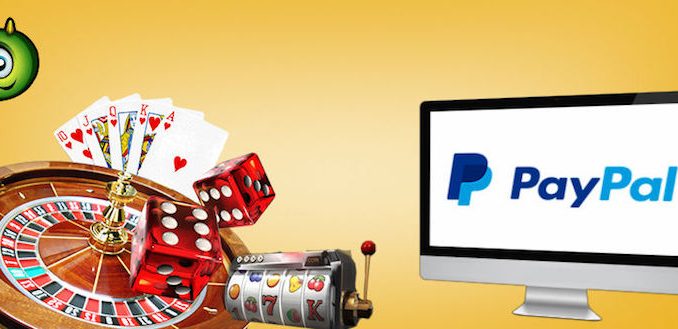 PayPal is one of the most trusted and widely used "online wallet" in the world and you'd be hard pressed to find any e-commerce sites where PayPal is not accepted, however; within the gambling industry; it's not that common.
Today we will show you some of our favorite online casinos that accept PayPal, and we'll also explain to you the ins-and outs of using PayPal to fund (deposit and withdrawal) your betting activities with online casinos and sportsbooks.
Before I go on to tell you why PayPal is one of the best methods to fund your deposits, let me just explain to you why there aren't many online casinos that take PayPal.
PayPal Have Strict Rules:
As we'll mention in the "benefits section" of why you should use PayPal, the reason not all online casinos use PayPal is because PayPal has strict rules on who they accept as a vendor.
Overall, the online gambling industry can have a bit of a negative "vibe" to it, and as such, PayPal has taken every step available to make sure they do not associate themselves with any shady casinos.
Even if an online casino does take PayPal, they only need a handful of complaints from PayPal users until they are completely banned from using the PayPal service.
More so than that, there are also country restrictions.
Casinos Need to be Regulated Before Joining PayPal:
Before any online casino can start accepting PayPal, they need to be regulated by the governments of their country and at the same time, in countries that are also in PayPal's approved countries.
This is both a win and a loss for online players because this regulation does yes prevent a lot of casinos from taking PayPal, but you can also be sure that the few that do accept PayPal are in line with every gambling regulation in place.
This guarantees you, the user, full safety and full transparency of your money. In a nutshell, joining online casinos that take PayPal tend to usually be the safest bet you can take.
So, ready to win big with PayPal and online casinos?
Let's look at some of the top best online casinos that will allow you to use your PayPal wallet as a withdrawal and deposit method.

Betfair
Betfair is one of the UK's favorite online casinos and sportsbook. We have reviewed the sportsbook but still need to do our casino review.
However, we are 100% sure they accept PayPal, and we're also sure that being one of the most-used bookmakers, the casino will be a great experience.
You can see all the Betfair welcome bonuses here.
LeoVegas
LeoVegas are one of our favorite casinos here at Alpha Casinos, so it's with great pleasure that we include the lion on this list.
LeoVegas have a spectacular casino, easy to use interface, superb welcome bonuses and yes; they are also one of the few online casinos that take PayPal.
See our LeoVegas Casino review.
WilliamHill
Another UK favorite is the long-standing giant; William Hill sports book and casino.
While it may not be our #1 favorite, we have listed William Hill in the top 5 casinos that we have reviewed so far.
Yes, William Hill does live up to their legacy, and yes they do take PayPal.
You can read our review and join William Hill here.
Bet365 Casino
Bet365 secures a place on this list because it's a well-rounded sportsbook and casino with a long-standing history of high-quality service and 1000s of satisfied punters.
Proof of this is their highly extensive betting markets and highly competitive odds, and yes, they also accept PayPal.
Find out about Bet365 casino and their incredible welcome bonuses here.
Why You Should Use PayPal?
Safety & Security
PayPal is extremely secure, probably as much as crypto currencies, so whenever you are using PayPal, you can rest assured that your funds and the casinos you are dealing with are all as safe as can be.
It's Commonly Used
I am sure you have heard and maybe even used PayPal (or at least saw how widely accepted it is).
PayPal is everywhere, and for good reason too; they keep an ethical approach to their business and using PayPal for online gambling would be the smart thing to do.
More Casinos Will Take PayPal
PayPal is tough when it comes to online casinos and their regulations, but as time goes by and more and more casinos will start getting regulated in different countries this more and more online casinos will start accepting PayPal.
We are sure this list of 4 online casinos that take PayPal will only continue getting bigger in the coming months and years.
It's Easy To Use
Setting up your PayPal account is super easy if you do not know how we you can see the detailed guide here or a short how-to mini guide below:
How To Start Your PayPal Account
All you would need to do is to visit PayPal.com and register using your email address and password.
Once that is ready, you would just need to add a credit card or a bank account to your PayPal, and you are good to go. Easy.

(Some) Alternatives To PayPal
Now that we have talked about PayPal, how about some other PayPal alternatives that you may also want to consider?
Some of the best know e-wallets in the online gambling world are:
Skrill
American Express
Boku
MoneyBookers
Alipay
BitCoin
Visa
How To Get Started With A PayPal Casino
A few days ago, we published our guide on how to start playing online casinos games. In that guide, we went through the exact process of how to sign up to a new casino.
If any of the above-mentioned casinos have interested you in joining them, we advise you to either read our sign up guide or else follow the links above, and you can go ahead and register for the bonuses.
Closing Words
Thanks for reading our list of the top 4 online casinos that take Paypal.
As we mentioned in this post, we look forward to seeing more and more online casinos start accepting PayPal and we wish you all the best in your betting endeavors.
Feel free to read more content from our blog here, or some more gambling news on our Medium channel.
Talk soon.